Internationalization: An Analysis of 26 Definitions
Palabras clave:
Internationalization, International Business, Depth, Breadth, Eclectic Paradigm, Uppsala Model
Resumen
There are many definitions related to the term "internationalization." This article will analyze 26 of the term's definitions as identified in the literature. Four dimensions of internationalization were identified in the literature: (1) Uppsala model (UM); (2) eclectic paradigm (EP); (3) depth; and (4) breadth. A qualitative technique of content analysis was implemented to analyze the 26 definitions. The main results suggest that depth is the most frequent dimension (20), followed by UM and EP (16), and breadth (12). Only two definitions included all four dimensions. The article concludes that internationalization is a complicated phenomenon with several approaches and is difficult state an unique definition.
Citas
Almodovar, Paloma and Rugman, Alan. "Testing the revisited Uppsala model: Does insidership improve international performance". International Marketing Review, 32, no.6 (2015): 686-712.
Andersen, Otto. "On internationalization process of firms: A critical analysis". Journal of International Business Studies, Second Quarter, (1993): 210- 231.
Andersen, Otto. "Internationalization and market entry mode: A review of theories and conceptual frameworks". Management International Review, 2, (1997): 27-41.
Armario, Julia M., Ruiz, David M. and Armario, Enrique M. (2008) "Market orientation and internationalization in small médium – sized enterprises". Journal of Small Business Management, 46, No.4 (2015): 485- 511.
Attig, Najah; Boubakri, Narjess and El Ghoul, Sadok . "Firm internationalization and corporate social responsibility". Journal of Business Ethics, No. 134 (2016): 171- 197.
Barkema, Harry G. and Drogendijk, Rian. (2007). "Internationalising in small, incremental or larger steps". Journal of International Business Studies, No. 38, (2007):1132- 1148.
Beamish, Paul W. "The Internationalisation Process for Smaller Ontario Firms: A Research Agenda", En: Research in Global Strategic Management International Business Research for the Twenty-First Century: Canada's New Research Agenda, editado por Alan Rugman, 77-92.Greenwich: JAI Press Inc, 1990.
Boddewyn, John . "The conceptual domain of international business: territory, boundaries, and levels" ,en: International business: An emerging vision", editado por Brian Toyne y Douglas Nigh, 50- 61. Columbia SC: University of South Carolina Press, 1997.
Calof, John L. and Beamish, Paul W. (1995). "Adapting to foreign markets: explaining internationalization". International Business Review, 4, no. 2 (1995): 115-32.
Cantwell, John and Narula, Rajneesh. The eclectic paradigm in the global economy, International Journal of the Economics of Business, 8, n. 2 (2001): 155- 172.
Capar, N. and Kotabe, Masaaki. "The relationship between international diversification and performance in service firms", Journal of International Business Studies, 34 (2003): 345- 355.
Castro-Olaya, Juanita, Castro-Olaya, Juliana and González- Pérez, Maria Alejandra. "Adaptation, adaptation and expedite creative adaptation: The internationalization patterns of in the food industry". Multidisciplinary Business Review, 8, n.o 2 (2015): 1-23.
Child, John and Rodrigues, Suzana B. (2005). "The internationalization of Chinese firms: A case for theoretical extension". Management and Organization Review, 1, n.o 3 (2005): 381-410.
Contractor, Farok , Kundu, Sumit and Hsu, Chin- Chu. A three-stage theory of international expansion: The link between multinationality and performance in the service sector. Journal of International Business Studies, 34 (2003): 5-18.
Coviello, Nicole E. and Munro, Hugh. "Growing the entrepreneurial firm: Networking for international market development". European Journal of Marketing, 29, no. 7 (1995): 49-61.
Dalmoro-Costa, Augusto, Freitas-Camboin, Guilherme, & Carneiro-Zen, Aurora. "Internationalization patterns and their effects on company performance". Journal of Operations and Supply Chain Management, 11, no.1 (2018): 53-63.
Danciu, Victor. "Models for internationalization of the business: A diversity based approach". Management & Marketing, 7, no. 1 (2012): 29-42.
Dicken, Peter. Global shift: Mapping the changing contours of the World Economy . London, UK: Paul Chapman, 1998.
Dunning, John H. "Toward an eclectic theory of international production: Some empirical tests". Journal of International Business Studies, 11, no.1 (1980): 9-31.
Dunning, John, H. International production and the multinational enterprise. London, UK: Allen and Unwin, 1981.
Dunning, John H. Explaining international production. London, UK: Unwin Hyman, (1988).
Dunning, John H. Multinational enterprises and the global economy. Wokingham, UK: Addison-Wesley, 1992.
Dunning, John H. (2001). The eclectic (OLI) paradigm of international production: Past, present and future. International Journal of the Economics of Business, 8 (2001): 173-190.
Gaur, Ajai and Kumar, Mukesh. "A systematic approach to conducting review studies: An
assessment of content analysis in 25 years of IB research". Journal of World Business, 53, no.2 (2018): 280-289.
Goldstein, Andrea. Multinational Companies from Emerging Economies: Composition, Conceptualization and Direction in the Global Economy. United Kingdom: Palgrave Macmillan, 2009.
Graves, Chris and Jill, Thomas. "Internationalization of Australian family business: A managerial capabilities perspectives". Family Business Review, 19, no. 3 (2006): 207-224.
Guillen, Mauro F. and Garcia-Canal, Esteban. "The American model of the multinational firm and the "new" multinationals from emerging economies". Academy of Management Perspectives, 23 (2009): 23-35.
Haro, Carolina, Gandara, Jose Manoel, Rastrollo, María Angeles and Mondo, Tiago. "La internacionalización de cadenas hoteleras: Una revisión teórica". Estudios y Perspectivas en Turismo, 23 (2014): 626-644.
Harzing, Anne Wil and Sorge, Arndt. (2003). "The relative impact of country of origin and universal contingencies on internationalization strategies and corporate control in multinational enterprises: Worldwide and European Perspectives", Organization Studies, 24, no. 2 (2003):187-214.
Hsieh, Hsiu Fang and Shannon, Sarah E. "Three approaches to qualitative content analysis", Quantitative Health Research, 15, no. 9 (2005): 1277-1288.
Hsu, Chia Wen; Lien, Yung Chih anf Chen, Homin. "International ambidexterity and firm performance in small emerging economies", Journal of World Business, 48, no. 1 (2013): 58-67.
Hymer, Stephen. The international operations of national firms: A study of direct investment. Cambridge, MA: MIT Press, 1976.
Javalgi, Raj G.; Griffith, David. A. and White, Steven D. "An empirical examination of factors influencing the internationalization of services firms". Journal of Services Marketing, 17, no. 2 (2001): 185-201.
Johanson, Jan and Valhne, Jan Erik. "The internationalization process of the firms: A model of knowledge development and increasing foreign market commitments". Journal of International Business Studies, 8, no. 1 (1977): 23-32.
Johanson, Jan and Valhne, Jan Erik. "The Uppsala internationalization process model revisited: From liability of foreigners to liability of outsidership". Journal of International Business Studies, 40 (2009): 1411-1433.
Johanson, Jan and Wiedersheim-Paul, Finn. "The internationalization of the firm- four Swedish cases", Journal of Management Studies, 12, no. 3 (1975): 305- 322.
Jones, Mariam V. and Coviello, Nicole E. "Internationalization: Conceptualising an entrepreneurial process of behavior in time", Journal of International Business Studies, 36, no. 3, (2005): 284-303.
Kamakura,Wagner A. ; Vecino-Gravel, Julio D. and Ramon-Jeronimo, Maria A. (2012). "A dynamic perspective to the internationalization of small-medium enterprise". Journal of the Academy of Marketing Science, 40 (2012): 236-251.
Kemp, Sharon and Dwyer, Larry .Mission statements of international airlines: A content analysis", Tourism Management, 24 (2003): 635-653.
Khrisna-Erramilli, M.; Srivastava, Rajesh and Kim, Seong Soo. "Internationalization theory and Korean multinationals", Asia-Pacific Journal Management, 16, no.1 (1999): 29-45.
Kubickova, Lea. "Limits of the Uppsala model application in the internationalization process of Chzec SMEs", European International Journal of Science and Tecnology, 2, no. 9 (2013): 245- 254.
Langley, Ann and Abdallah, Chahrazad. "Templates and turns in qualitative studies of strategy and management", Research Methodology in Strategy and Management, 6 (2011): 105- 140.
Liu, Hsing Hsi and Ko, Wang Chiang. "Measuring the degree of internationalization for Taiwanese banking industry: Scoring measurement by principal component analysis", International Business Research, 10, no. 6 (2017): 212-226.
Moraima- Campos, Maria and Auxiliadora- Mujica, Lexy. "El análisis de contenido: Una forma de abordaje metodologico", Laurus, 14, no. 27 (2008): 129- 144.
Pukall, Thilo Justus and Calabro, Andrea. "The internationalization of family firms: A critical review and integrative model", Family Business Review, 27, no. 2 (2014): 103-125.
Ruzzier, Mitja; Hisrich, Robert D. and Antoncic, Botsjan. "SME internationalization research: Past, present and future", Journal of Small Business and Enterprise Development, 13, no. 4 (2006): 476-497.
Serrano, Raul; Fernandez-Olmos, Martha; Pinilla, Vicente. "Internationalization and performance in agri-foods firms", Spanish Journal of Agricultural Research, 16, no. 2 (2018): 1-16.
Sethi, Deepak and Guisinger, Stephen. "Liability of foreignness to competitive advantage: How multinationals enterprises cope with the international business environment", Journal of International Management, 8, no. 3 (2002): 223-240.
Shane, Scott. "Prior knowledge and the discovery of entrepreneurial opportunities", Organization Science, 11, no. 4 (2000): 448-69.
Shane, Scott and Venkataraman, S. "The promise of entrepreneurship as a field of research", Academy of Management Review, 25 no. 1 (2000): 217-226.
Sun, Sunny Li. "Internationalization strategy of MNEs from emerging economies: The case of Huawei". Multinational Business Review, 17 no. 2 (2009): 133-159.
Tallman, Stephen and Li, Jiatao. "Effects of international diversity and product diversity on the performance of multinational firms", Academy of Management Journal, 39, no. 1 (1996): 179-197.
Velez-Calle, Andres; Sanchez-Henríquez, Fernando and Contractor, Farok. (2018). "Internationalization and performance: The role of depth and breadth",Academia Revista Latinoamericana de Administración, 31, no1 (2018): 91-104.
Welch, Lawrence S. and Loustarinen, Reijo. "Internationalization: Evolution of a concept", Journal of General Management, 34 (1988): 34-57.
Wind, Yoram; Douglas, Susan P. and Perlmutter, Howard V. Guidelines for developing international marketing strategies, Journal of Marketing, 37, no. 2 (1973):14-23.
Zaheer, Srilata. "Overcoming the liability of foreignness". Academy of Management Journal, 38, no. 2 (1995): 341-363.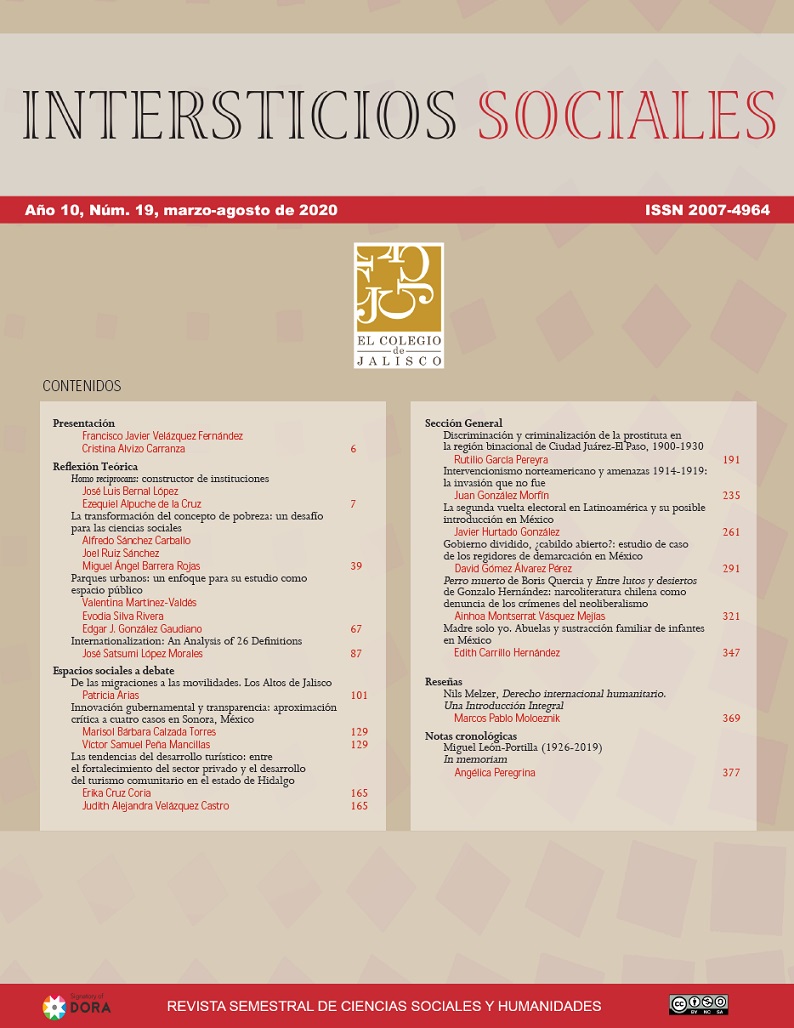 Cómo citar
López Morales, José Satsumi. 2020. «Internationalization: An Analysis of 26 Definitions». Intersticios Sociales, n.º 19 (febrero):87-99. https://doi.org/10.55555/IS.19.290.
Sección
Reflexión Teórica
Licencia
Una vez que un trabajo ha sido aprobado para publicación en Intersticios Sociales, cada autor(a) debe firmar la correspondiente cesión de derechos patrimoniales en el formato aprobado por la revista.
Cada autor retiene los derechos morales de su trabajo, y la cesión arriba descrita se entiende únicamente con fines de publicación académica, no lucrativa, por parte de Intersticios Sociales y El Colegio de Jalisco.